As what one speaker described as "the North Carolina Awards Show," the Real Estate Commission won top honors in four separate categories at the Annual Conference of the Association of Real Estate License Law Officials (ARELLO). The Commission received ARELLO's "Investigator of the Year" award, "Communication Excellence Award" for its Real Estate Bulletin newsletter, and two education awards recognizing its Broker-in-Charge and Trust Account courses.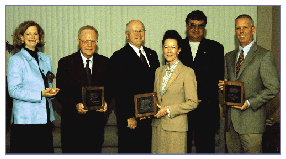 Shown are (left to right) Auditor/Investigator Robin Tanner, Publications Officer Robert Forshaw, Commission Vice Chairman William Lackey, Legal Education Officer Patricia Moylan, Commission Chairman Allan Dameron and Director of Audits and Investigations Emmet Wood.
This article came from the February 2003-Vol33-3 edition of the bulletin.