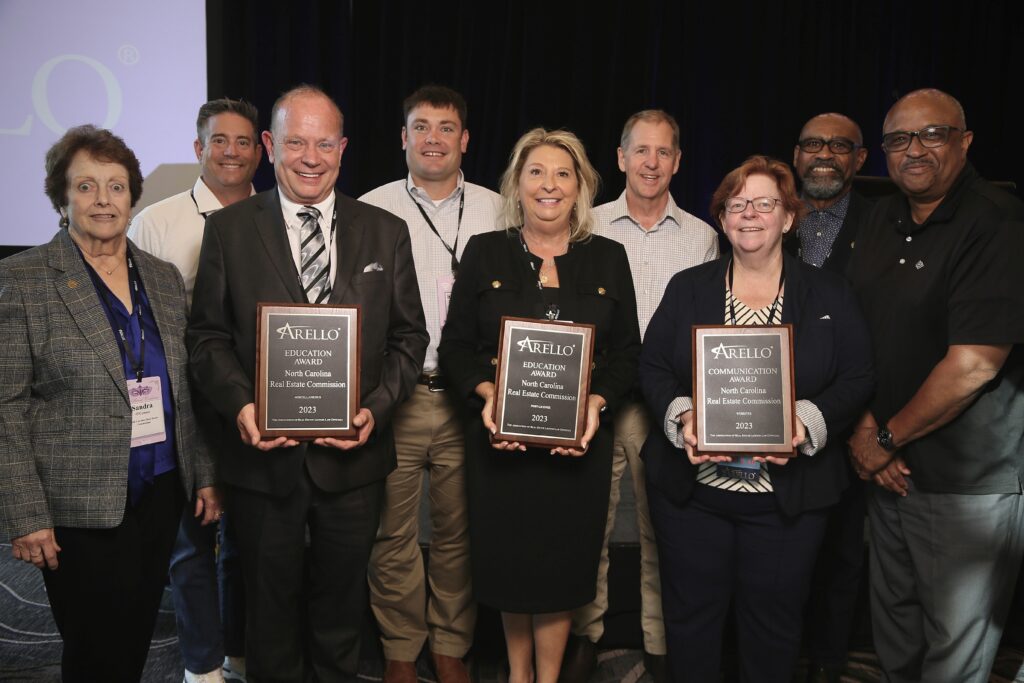 [Pictured L to R]: S. O'Connor, J. Malarney, L. Elder, B. Aceto, J. Thoren, M. Black, M. Baer, T. Lindsey, W. Bullard accepting the ARELLO Awards.
The Commission won the following awards:
ARELLO EDUCATION AWARD – Continuing Education
To NCREC for identifying the need for education on the hot topics of wire fraud and cybersecurity. For integrating multiple agencies and stakeholders into a unified presentation with multiple presenters and awarding real estate CE credit, attorney CLE credit and paralegal credit in a single course. For incorporating training videos, best practices and tools for risk mitigation. For orchestrating and coordinating multiple venues and locations across the state. For integrating the innovative use of QR codes and Sharefile in the delivery of student materials.
ARELLO EDUCATION AWARD – Instructor Training & Development
To NCREC for hosting an instructor education and training event for over 350 attendees from across the state. For the creative and innovative theming of the event as NCREC TREK and incorporating a Star Trek theme. For exploring new worlds of education and delivery modes with topics such as course audits, effective teaching with technology, assisting instructor performance with problem licensing exam topics, enhancing student engagement and the leverage of learning objectives.
ARELLO COMMUNICATION AWARD – Website Innovation & Design
To NCREC for the creation and implementation of the LADS database system for instructors and education providers. For enhancing the efficiency and accuracy of tracking instructor and education provider data. For processing in real time license examination statistics. For creating reports and statistics segregated by education provider, instructor and delivery mode to allow for enhanced decision making and insight into student examination performance.