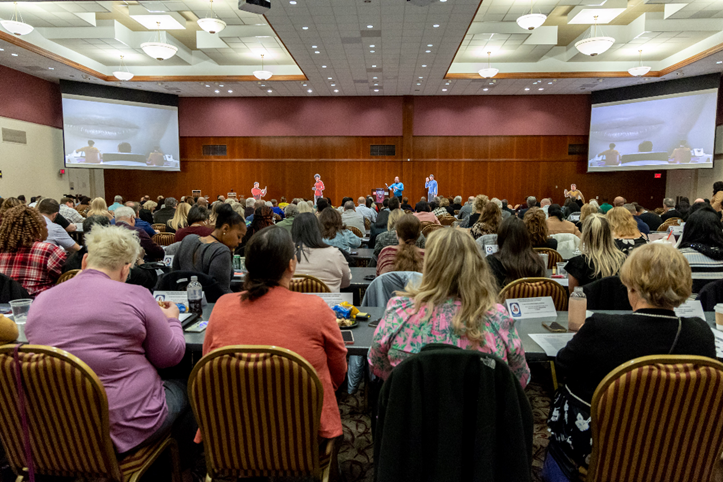 The North Carolina Real Estate Commission was pleased to host its 2023 Spring Educators Conference on Tuesday, March 21, 2023, at the McKimmon Center in Raleigh. The theme of the conference was NCREC Trek: Exploring Brave New Educational Worlds.
The registration for the conference was limited to 300 participants. Mel Black, Commission Chair, opened the conference with a welcome to all of the attendees. After the welcome, the day-long event featured the following presentations by Commission Staff members and the Keynote Speaker.
The State of StarFleet Command by Miriam Baer, Executive Director
For the Good of the Federation by Len Elder, Director of Education and Licensing
Correcting the Course and Heading by Andrew Cox, Education Approval & Renewal Officer, Beth McGonigle, Education Content Officer, Cathy Worsley, Course Review Officer, Deb Carpenter, Education & Examination Officer, Kizzy Crawford Heath, Legal Education Officer, and Elder.
Setting Prim Directives by Ross and McGonigle
Mastering the Holodeck by Betsey Coyne, Master Tech Trainer, PCMAC Technology Services
Leading the Starfleet Academy by Carpenter
Beam Me Up Scotty: Engaging the Unengaged by Crawford Heath
The conference concluded with the presentation of the 2023 Larry A. Outlaw Excellence in Education Award to Stephanie Walker by Commission Chair Black. The Commission established the Larry A. Outlaw Excellence in Education Award in 2016 to honor the Commission's late former Director of Education and Licensing Division. This year's recipient of the Larry A. Outlaw award, Stephanie Walker, demonstrated ongoing excellence in outstanding contributions to real estate education in North Carolina.
The Commission thanks North Carolina's real estate educational community for its continued interest and support, and congratulates Stephanie Walker on her award.