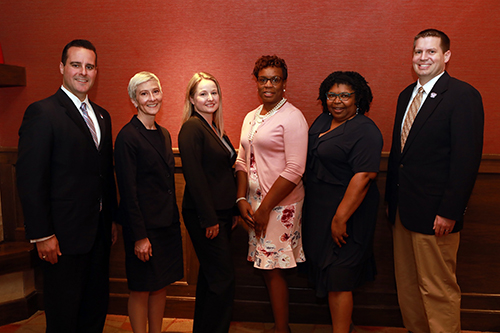 75 Years of Service
Seven Commission staff members received awards for a combined total of 75 years of service: (from left to right) Frederick A. Moreno, Chief Deputy Legal Counsel; Corean E. Hamlin, Director, Education and Licensing Division; and Melissa A. Vuotto, Rulemaking Coordinator, all five years; Tiffany D. Bryant, Executive Assistant/Paralegal, 10 years; Brenda K. Hollings, License Services Officer, 30 years; Bradford A. Cox, Licensing Team Lead, 10 years; and Peter B. Myers (not present), Information Officer, 10 years.
Appearances
Stephen L. Fussell, Senior Protection Officer, spoke to Redfin Corporation in Durham.
Nicholas T. Smith, Consumer Protection Officer, spoke to Acorn + Oak Property Management and to Fathom Realty NC, both in Durham.