Would you like to request Continuing Education Credit from the Commission for a course that is not approved by the Commission or for a real estate education activity that is equivalent to a Commission-approved continuing education course? Click here for information and application OR call the Commission at 919.875.3700.
The annual period for renewal of your real estate license begins at midnight on May 15 and continues until midnight June 30. If you do not renew by June 30, your license will expire.
Per Commission Rule 58A .0503, you must renew online. To renew online, login to your record on the Commission's website, www.ncrec.gov, on or after May 15. Your PIN (password) will be the last four digits of your Social Security number unless you have changed it.
You must provide the "Employee Misclassification" disclosure and certification during the renewal process. Additionally, if you are a Broker-in-Charge, you will be required to disclose information regarding your trust account(s) and any criminal convictions or disciplinary actions that have occurred within the previous year, if applicable.
The renewal fee is $45.00. You may pay by Visa, MasterCard, Discover, American Express, or PayPal. A printable confirmation of renewal will appear on your screen when the process is complete.
If your renewal fee has not been received by the Commission by June 30, your license will expire. To reinstate an expired license, you must pay a $90 fee between July 1 and December 31. Failure to reinstate the former license by December 31 will result in your having to submit a new application, including application fee and criminal background report. You will also be required to take additional education and/or pass the state license examination. Refer to the "Reinstate your License" page on the Commission's website (www.ncrec.gov) for detailed information regarding the reinstatement process.
Be sure to renew your license by June 30, even if you do not complete your continuing education by June 10. By doing so, your license will be changed to inactive status on July 1, rather than expired. Refer to Rule 58A. 1703 for license activation instructions.
NOTE: If you hold BIC Eligible status and your license expires or changes to inactive status on July 1, you will automatically lose BIC Eligible status and, in turn, BIC designation (if applicable). If that happens, and you wish to regain BIC Eligible status, you must (1) return the license to active status; (2) meet the experience requirements for BIC designation; (3) take the 12-hour Broker-in-Charge Course before re-designation; and (4) complete and submit the Request for BIC Eligible Status and/or Designation form(REC 2.25). Do NOT take the 12- hour BIC Course before your license is on active status! Refer to Rule 58A. 0110 for detailed instructions regarding regaining BIC Eligible status and BIC designation.
Stephen L. Fussell, Chief Consumer Protection Officer
Ignorance is a lack of knowledge. Intentional ignorance is when you choose to avoid learning information or skills. Why would a broker choose to avoid learning information or skills? One reason is that some brokers mistakenly believe that if they don't know a material fact then they can't be required to disclose it.
            Here are almost a dozen examples of intentional ignorance which could lead to damage to a client and disciplinary action being taken against a broker: i
A commercial listing broker lists a large tract of land and subsequently hears a rumor regarding a former unregulated dump site on the property, but fails to make any inquiry into the possible former dump site.
A residential property manager has been leasing a property to the same tenant for five years, but has not inspected the property since the tenant moved in and therefore doesn't know about the condition of the property or whether the tenant is complying with the terms of the lease, such as unauthorized occupants or pets.
A vacation rental manager learns of a beach renourishment project but doesn't inquire about planned dates or potential impact on guests.
A residential buyer agent shows a house to a buyer-client and silently doubts the accuracy of the square footage advertised in the MLS, but says nothing to anyone, because the buyer instantly fell in love with the property.
A commercial broker representing a tenant, who wants to lease a space for a daycare center, fails to ascertain whether the space meets the requirements for operating a daycare center or to advise their client to do so.
A property manager notices rust-colored stains in sinks, toilets and tubs, but fails to inquire about water quality or water filtration systems or suggest that the owner test the water quality.
A residential listing agent, whose market area includes a town bordering a river that floods during periods of heavy rain, does not inquire about flooding on the listed property or in the surrounding neighborhood.
A group of brokers buy an investment property to renovate and resell, but do not order any inspections or discuss conditions with contractors thinking that, if they do not discover material facts about the property, then they will not have to disclose them on resale.
A residential listing agent lists a house with a septic system, but does not pull and review the septic permit or inquire about the pool of foul-smelling water standing in the yard.
A residential buyer agent knows their buyer-client wants to construct a barn and raise chickens, goats and other farm animals, but fails to obtain and review the restrictive covenants, zoning restrictions and other regulations that may affect the buyer's intended use or to advise their client to do so.
A buyer agent has a client they know to have respiratory issues and notices standing water in the crawl space of a property, but does not inquire about mold or suggest that the buyer hire a mold inspector.
The aforementioned examples illustrate brokers who chose to avoid acquiring information to improve their knowledge and/or skills and thereby failed to position themselves to better represent their clients and protect consumers.
The flaw in using intentional ignorance as a strategy is that a broker is required to discover and disclose material facts. This duty to discover eliminates a broker's option to avoid learning about a material fact. Moreover, a broker is held responsible for what he/she knows or reasonably should know. This responsibility also applies when a broker is selling or leasing his/her own property (see N.C.G.S. § 93A-6(b)(3)). So, even if a broker doesn't know a material fact, if the Commission determines that a prudent agent would know it, then the ignorant agent can be disciplined for failing to disclose the fact.
N.C.G.S. § 93A-6(a)(1), (8) and (10) authorize the Commission to pursue disciplinary action against a broker who omits a material fact, is incompetent or unworthy to act in a manner which protects the public or who engages in improper or dishonest dealing, respectively. Therefore, intentional ignorance is not an option for a broker. Every broker must exercise reasonable care and diligence in discovering and disclosing all material facts to all interested persons in a timely manner.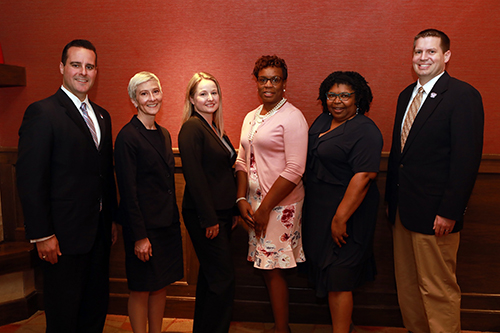 75 Years of Service
Seven Commission staff members received awards for a combined total of 75 years of service: (from left to right) Frederick A. Moreno, Chief Deputy Legal Counsel; Corean E. Hamlin, Director, Education and Licensing Division; and Melissa A. Vuotto, Rulemaking Coordinator, all five years; Tiffany D. Bryant, Executive Assistant/Paralegal, 10 years; Brenda K. Hollings, License Services Officer, 30 years; Bradford A. Cox, Licensing Team Lead, 10 years; and Peter B. Myers (not present), Information Officer, 10 years.
Appearances
Stephen L. Fussell, Senior Protection Officer, spoke to Redfin Corporation in Durham.
Nicholas T. Smith, Consumer Protection Officer, spoke to Acorn + Oak Property Management and to Fathom Realty NC, both in Durham.
WILLIAM NEWTON DEVORE III (Asheville) – By Consent, the Commission reprimanded Mr. Devore effective May 1, 2019, on certain conditions. The Commission found that Mr. Devore, in or around December 15, 2015, was convicted of a Level 5 DWI, which he disclosed on his broker license application. In or around January 10, 2019, Mr. Devore self-reported his second DWI conviction involving an accident in which he damaged another vehicle. He received a sentence of 34 days in jail, which was suspended. Mr. Devore spent 28 days in an in-patient treatment center, and received 18 months of supervised probation and 240 hours of community service. Mr. Devore is prohibited from driving for one year.
OSCAR H. PACE, JR. (Broadway) – By Consent, the Commission reprimanded Mr. Pace effective April 1, 2019. The Commission found that Mr. Pace acted as broker-in-charge from April 11, 2016 to November 8, 2017. From November 2016 through March 2017, Mr. Pace's employees falsely communicated to their landlord-client that the firm was continuing to accrue charges against a tenant who had vacated the property before lease end and the firm would eventually send the accrued charges to collections. Instead, Mr. Pace's employees had already refunded the tenant security deposit to the tenant and informed him that he did not have to continue to pay rent.
TRIPP TOWER JR. (Denver) – The Commission accepted the voluntary surrender of Mr. Tower's license effective April 17, 2019. Mr. Tower cannot reapply for licensure for one year. The Commission dismissed without prejudice allegations that Mr. Tower violated provisions of the Real Estate License Law and Commission rules. Mr. Tower neither admitted nor denied misconduct.
Wendell Bullard of Durham was appointed to the North Carolina Real Estate Commission by Governor Roy Cooper effective August 1, 2018.
Mr. Bullard is Managing Broker at Bullard Properties, LLC, in Durham and has over 22 years of experience in the real estate industry including affiliations with Prudential Carolinas Realty, and Realty Executives Triangle Southpointe (Co-Owner).
He is past president of the Durham Regional Association of REALTORS® and the North Carolina Association of REALTORS® and past REALTOR® of the Year in both organizations.
One of several founding members for charter high schools in Charlotte and Raleigh, Bullard is past treasurer for Commonwealth and Stewart Creek High Schools and past board president of Central Wake Charter High School in Raleigh.
He is a graduate of North Carolina Central University with a B.S. in Marketing and a United States Air Force Security Specialists veteran.