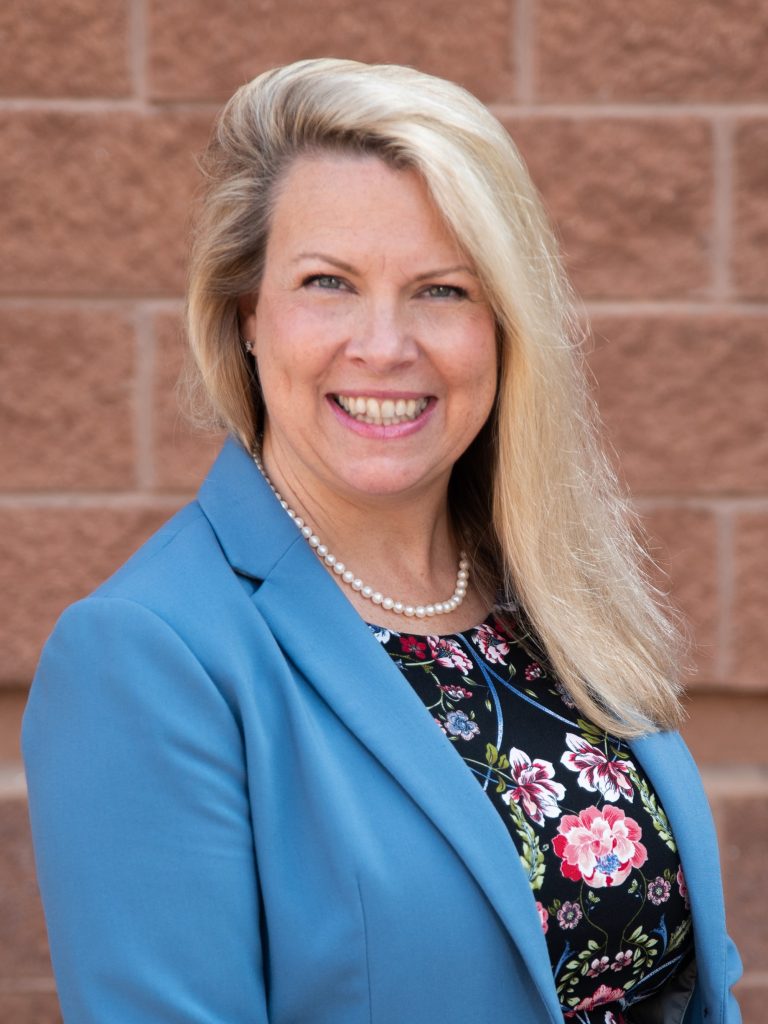 Kelly Allen of Asheville is the 2020 recipient of the Larry A. Outlaw Excellence in Education award. Sandra O'Connor, Commission Chairperson, announced the award on October 8 at the NC Real Estate Educators Conference (NCREEA) conference.
The Commission established the Larry A. Outlaw Excellence in Education Award in 2016 to honor the late former Director of the Education and Licensing Division of the North Carolina Real Estate Commission. Larry A. Outlaw, both an attorney and licensed real estate broker, served as Director of the Education and Licensing Division for 35 years, from its creation in January, 1979 until his retirement February 1, 2014.
Outlaw continually worked to improve real estate prelicensing education and to expand real estate education, creating and implementing a continuing education program in 1994 and a postlicensing education program in 2006. He advocated for and achieved minimum standards for approval of real estate instructors that included not only effective teaching skills, but real estate brokerage experience as well. He also worked to assure the excellence of the Commission's licensing examination. Outlaw was a Founding Member of the national Real Estate Educators Association, serving as national president in 1990-1991.
This year, the Commission established specific criteria for the Larry A. Outlaw Excellence in Education Award, to recognize and honor Outlaw's legacy as a pioneer in our industry. To be selected, the 2020 recipient must have demonstrated innovation in real estate instruction during the previous 2 years. Also, the nomination had to be supported by at least three letters of recommendation.
The Commission received multiple nominations. All of the nominees were extraordinary instructors.
The 2020 recipient, Kelly Allen, currently serves as both instructor and education director for Cumbie and Trull School of Real Estate in Asheville. She uses a wide variety of unique and innovative instructional techniques, including song lyrics, props and costumes, body motions, graphic organizers, Kahoot and Connect 4 games.
Allen is a member of NCREEA and REEA, achieved a 72% license examination pass rate during the 2018-19 license year, has a BA in Education, and has mentored other instructors.
Allen's students have said:
Her energy, educational techniques, and professionalism are great PR for all North Carolina Brokers.
She blends innovative teaching strategies with factual content in a manner that commands the learners' attention.
She made the subject matter in the course fun and relatable to everyday experiences.
She epitomizes the dissemination of knowledge and innovation this industry expects from their teachers.
Did you know the Commission audits brokers' trust accounts? Have you ever wondered who performs those audits?
When the Commission receives a complaint against a broker, a staff attorney reviews the complaint to determine whether the allegations fall under the jurisdiction of the Real Estate Commission. The staff attorney is not attempting to determine whether the allegations are true or false at this stage. Rather, the attorney must consider: "If all allegations in this complaint are true as written, would there be a violation of License law and Commission rules?" If the answer is yes, then a case file is opened.
If the allegations in the complaint involve mismanagement of consumer funds, then the case is referred to a Commission Auditor who will likely visit the brokerage office to obtain statements and documents.
In addition to performing complaint-based audits, Auditors:
conduct "spot audits" of trust accounts;
investigate financial fraud involving misrepresentations, loan fraud, the mishandling of client funds, and other improper acts in connection with real estate sales and leasing transactions;
write reports for the Director of Regulatory Affairs regarding their investigations;
testify as witnesses in disciplinary hearings; and
assist in instructing courses and conducting workshops related to real estate brokerage.
To learn more about the complaint process or to file a complaint, go to the Commission's website, or contact Regulatory Affairs at RA@ncrec.gov or 919-719-9180.
Are you interested in becoming a BIC? Did you know that if you open a trust account, Rule 58A .0110(g)(9) requires you to take the Basic Trust Account Procedures course within 120 days of opening the account?
During the Basic Trust Account Procedures course, you will learn about the laws and rules regarding maintaining a brokerage trust account in North Carolina.
The Basic Trust Account Procedures course is now easier than ever to take because it is available online. Also, once you have successfully completed the course, you will receive four (4) hours of continuing education elective credit.
Ready to register for the Basic Trust Account Procedures course? If so,
go to www.ncrec.gov
click Education;
click Trust Account Registration
click Add to Cart; and
click Checkout.
For more information or to ask a question, contact Regulatory Affairs at RA@ncrec.gov or 919.719.9180.
Miriam Baer, Executive Director, spoke at the HM Properties event on October 29.
Sheryl Graham, Consumer Protection Officer, spoke at the Century 21 Liberty sales meeting on October 29.
Jean Hobbs, Auditor/Investigator, spoke at the NARPM Charlotte Chapter meeting on September 16.
BRANDI UTOPIA BAKER (Greensboro) – By Consent, the Commission suspended the broker license of Ms. Baker for a period of 6 months effective November 1, 2020. The Commission then stayed the suspension in its entirety. The Commission found that Ms. Baker visited the condominium her buyer-client was purchasing after being notified the condominium may have been damaged by a sewage back up. Ms. Brown did not communicate the potential damage to her buyer-client before he signed the closing documents and mailed them to the closing attorney.